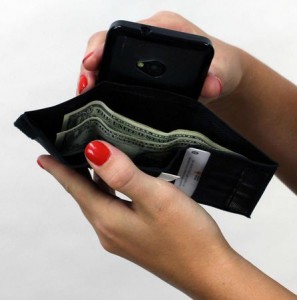 I have said this before, and I am starting to become a prophet, but the wallet's days are numbered. As soon as we have mastered all electronic payments, no one will ever have to put that lump in their pocket ever again.
Until that day, you can use Topcor's Tech Wallet. I would consider this a merging of the smartphone and a wallet, as you must put a velcro strip on the back of your phone to attach it on. You will be able to store 12 cards and 12 bills on this wallet, which makes it able to store more than the QCard and other products.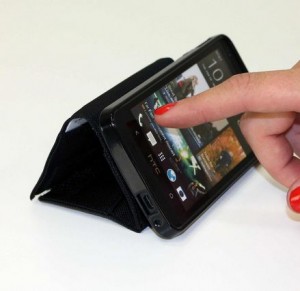 In addition to the ability to be a wallet, the Tech Wallet is also a stand for your smartphone as well. See how it folds up triangular like? It can also do this in portrait mode as well. Heck, you can use it as an airplane seat try mount.
If you want to get in on this, you can get it on the Topcor site for about $19.99.