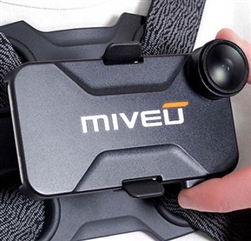 It isn't every day that I review a product that can work for both the iPhone 4/4S and iPhone 5, so I got to hand it to Miveu for doing something unique with the Miveu X Kit.
If you are not familiar with Miveu, it is an excellent method of mounting a phone on your person so you can record stuff from your view (hence the name Miveu some weird word mash of "my view"). It is able to mount on one's chest, sort of like a parachute.
Yeah, I will have to say that it makes you look odd, but in the footage, you won't see yourself. I find that the iPhone 5 fits snugly in the case with a custom wide-angle lens. The iPhone transitions really well on the chest.
I recommend this product if you have a lifestyle that involves skiing, biking, or something else that is really extreme. I am not certain what protection you will have if you fall, though.
If you want to get in on this, feel free to head to the Miveu site and lay down about $109.95 (or the deal of the day for $99.99).