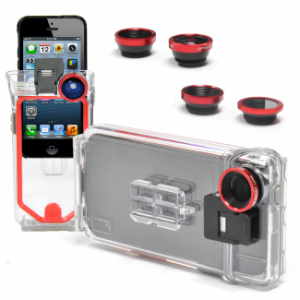 I have been reviewing a lot protective cases for the iPhone 5 like the Incipio ATLAS (see last review), and I have also been reviewing some interesting lenses for the iPhone 5 like the Olloclip. The Optrix PhotoProX is sort of a combination of both.
As you can see from the picture, the PhotoProX come with four lenses. What you don't know is the four types: Low Profile, Macro, Fish-eye, and Telephoto lens. All you need to do is screw them on, and you can take some pictures with some interesting and clearer points-of-view. For example, the Macro is good for some cool close-ups that you can't get before.
All that is required is to insert the iPhone 5 into the transparent housing and close it up. It is waterproof up to 33 feet, and IPX8 rated for water immersion. So a whole world of underwater photos will soon be available to you.
Now I tested it out, and I made certain that what came out was perfectly dry. I made certain to test it by putting one of these included small rubberbands on the lens so it makes a completely water-tight seal. I highly recommend doing the same when you try it out.
Not only does the protective case keep your iPhone 5 protected from 30 foot drops, but it is designed to be mount ready. Yeah, you'll have to buy the mounts separately. I'm not certain why it doesn't have the standard female screw-in thing, but hey.
You can find the PhotoProX on the Optrix site for $149.95.