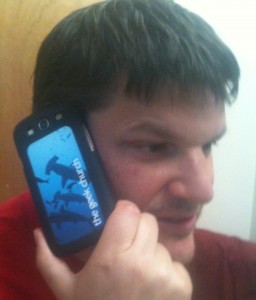 In case you are wondering, that is me with a a customized case. If you want to know, it was made by ChromaLuxe.
I never heard of ChromaLuxe before they contacted me, but I was glad that they sent me some stuff to try out. That is a Fashion Frame for the Galaxy S III that I am holding in my hand, and it is a hard shell frame with a strategically-placed hole in it for a metallic insert. In this case, it has my logo. I never asked for the hammerhead sharks, but I like it.
I also like ChromaLuxe in general, as you can really interchange the metallic inserts for many combinations. These metallic insets are customizable, of course, and that I like. The only problem that I have is trying to insert the mobile device into the case with the inset. The way it is set up, it is too easy to knock out the inset, and then you have to do it all over again.
You can find out more about ChromaLuxe for the iPad here, the Galaxy S III here, and the iPhone 5 here. You should definitely look into it, so head on over to the ChromaLuxe site for more info.
As for the prices, a case with 1 insert is $34.99 and 2 inserts is $44.99, available here. As for the iPhone 5, a case with one panel starts at $19.99 here. This is the same price for the Galaxy S III, available here.