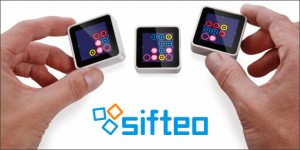 The Sifteo is one of those products that you really have to see in order to believe, or even just to describe. I will make my best attempt.
Imagine three tiny touchscreens that you can put together to create all kinds of games. For example, you can "neighbor" two Sifteos together in order to create an effect of moving from one screen to the other. You can also flip, tilt, and shake them too.
Now, here's what you need to know: how these cubes work together. Well, you have to use the Sifteo Base, and its one button control allows for easy reset of a game plus the main menu. It really is a surprise to see what will happen next.
It comes with four pre-loaded games like Chroma Splash, Code Cracker, Cube Buddies, and Word Caravan. One of my favorites is Sandwich Kingdom, a game where you play a princess an must move the cubes around to help her along her adventurous path. It's like one of the 2-D Legend of Zelda games, with a twist.
You should be able to get the Sifteo Cubes on the Sifteo site for about $129.95. The kit includes the three Sifteo Cubes, Sifteo Base, and 5 AAA batteries. You can download other games, at this site here. More desktop software is available here, and I would recommend checking it out.