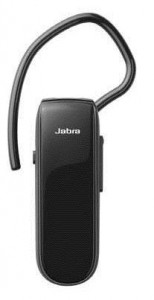 Yes, I love writing about Jabra products, and it is one of the companies that you just associated with Bluetooth headsets, sort of like Jawbone and Blue Ant. This is a Classic.
I realize that Classic usually means old, like Coca-Cola Classic, and I will have to say that this one is rather new. I don't know how new, but it is your pretty standard Bluetooth headset. Yes, it has the one-button controls, voice guidance to pairing it with your phone, etc. If you want some specs, it has a 9 hour talk time and up to 9 day standby time. This is thanks to the Power Nap feature, a battery saving mode.
Since I had a chance to try it out, and it was a decent Bluetooth all right. I liked the wireless streaming of pretty much anything with Bluetooth like GPS, music, or anything else.
Bottom line, it is a pretty good handset for the holiday season, and I still don't believe that not everyone has a Bluetooth headset yet. For those who want one as a present, it is available on the Jabra site for about $49.95 on Amazon, and find out more info about it here. By the way, it comes in red, white, an black.