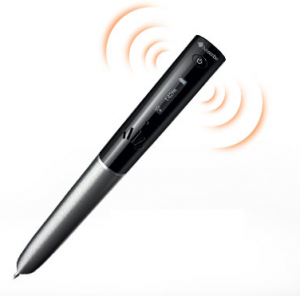 I have reviewed a lot of smartpens in my time, and I feel they are designed for those who want to combine old-school with digital. The Sky Wi-Fi Smartpen is one of them, and I had a chance to try it out.
The first step to this smartpen is that you have to set up an account. From there, you can set it up with your Wi-Fi account to do all of its tricks.
When I say tricks, I am talking about this notebook that it comes with which allows you to scan symbols to record conversations. Yes, you can record things on this, and it comes with a microphone on the pen. By the way, there is a chance to get 2GB or 4GB of memory. Oh yes, you can scan quite a bit of things.
But this is only the beginning as you can write whatever you want with this pen, and it will save it in the memory. In fact, the writing and your audio can be saved to your very own Evernote account. This means that you can access your Sky Wi-Fi Smartpen content from pretty much everywhere.
Now, I will recommend the Sky from Livescribe if you really like the olden days of pen and paper. That actually describes me, as sometime that I like just the pen, which is still mightier than the sword. I don't know if there is a future for smartpens, as people are becoming more and more used to putting content on their smartphones and tablets. I think there is a generational thing going on here.
Anyway, if you want to get in on this smartpen action, feel free to head over to the Livescribe store and lay down $169.95 for the 2GB version and $199.95 for the 4GB version.