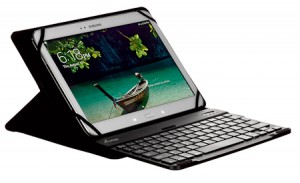 I have seen a lot of terrific M-EDGE products in the past, and I am pleased to review more of them, starting with the Universal StealthPro Keyboard Foio.
Made for 10 inch tablets that include all versions of the iPad, the Galaxy Note 10.1, the Google Nexus, and the Kindle Fire HD 8.9. It has these bands on all of its four corners to hold whatever tablet that you can fit in it into place.
Since it is a Folio case, this means that it has a keyboard. What makes it different is the keyboard affixes itself magnetically, which means that you can move it around. This is necessary as the GripTrack needs the space, and it is amazing how compact it can get as it magnetically locks up in a pseudo-leather holder. Heck, you can even fit the charging cord in there.
All in all, it really works and it is one of the finest that I have seen. If you want to get in on this, head over to the M-EDGE Store and lay down $99.99.