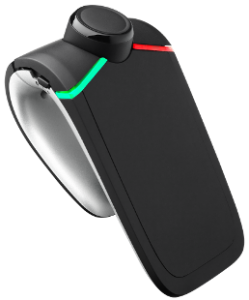 I have reviewed products from Parrot before, and I can assure you they are not like other tech companies that "parrot" their competition. I always felt that Parrot did its best to stand out, and the MINIKIT Neo is incredibly versatile.
Granted, I have seen products like the Neo before, so it is hardly "The One" (Matrix reference). It is made for the visor of a car, and allows you to operate it without even touching any button. There is an option for one-button control, and I found that calling was as easy as touching a button to access my downloaded contact list.
Yes, I had a chance to try it out, and I must say that I was quite impressed. Not only were my phone conversations clear as a bell, but it guided me through the pairing process vocally.
Not only is this a great device, it had a terrific app as well. It features Auto Reply SMS, Find my Car, and a driving time reminder to let you know when it is time to pull over and rest.
If you want to get in on this action, you can got to the Parrot MINIKIT Neo on the Parrot site for $99.99.