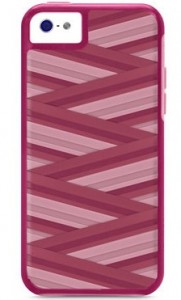 Okay, I have been wanting to try out the X-Doria iPhone 5C cases for a while, and I was pleased to try a few from X-Doria, makers of the Kick. Now, I am pleased to try out two of them, the Rapt an Spots.
I'll start with the Rapt. I am not certain how to describe the pattern, so look at the image to the left and make your own judgment. I am thinking "wrapped up ribbons". The texture feels like "wrapped up rubber ribbons" and they are made of polycarbonate and rubber, and the inner texture with soft lining is made to fit the iPhone 5C well.
In case pink isn't your color, you can also get it in black or blue. You can get that on the X-Doria site for about $24.99. By the way, there is also protection for the volume buttons, and the impact protection and shock resistance works too.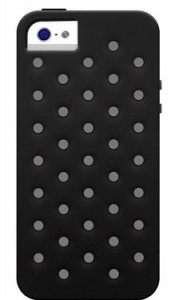 These protection features also apply to the Spots. In their own words, X-Doria describes the Spots as an Ice Cream Sandwich, but I personally think it feels like a mattress. The soft, protective silicone also creates this feel, which means that it can protect the iPhone 5C very, very well.
Like the Rapt, this comes in three different colors. The ones that you don't see here are red and blue. You can get it on the X-Doria site for $19.99.