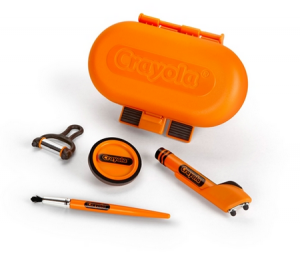 Crayola always seems to have some new product to come out just before the holiday season. Last year, it was the Light Designer, and now they have created the DigiTools Paint Pack for the iPad or other Android tablets.
The DigiTools Paint Pack comes with a free App that is perfect for coloring. As you might have imagined, this is designed for younger minds, but anyone who is into coloring will really appreciate it. You can see that it has a toolkit with four specific tools.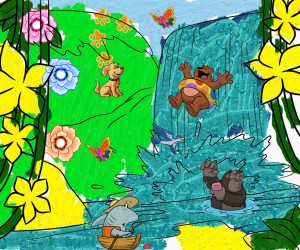 The first is the paintbrush, which works like an actual paintbrush, only you can apply some glitter or wood textures if you like. The roller thing that you can see in the image above and to the left allows you to apply patterns like grass or other things on the canvas. The round thing is a digital stamper, allowing you to place a small picture on the digital picture that you are coloring. The last tool is an airbrushing tool for cool spray art effects.
I had a chance to try it out, and I have to say that I wish I had one of these when I was coloring as a kid. The app allows you to digitally stamp an image, and if you try and color around it, you won't get any "paint" on the image. Just trust me, it works, and my son absolutely loved it. In fact, here is one of his creations.
You can get the DigiTools Paint Pack for $39.99 on the Crayola site.