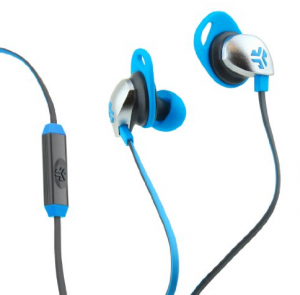 Some of you might remember in my report on the Epic by Celluon, as I stated that I am tired of the use of the word "Epic". What is ironic is that I commented on how last summer gave us a movie called Epic, and I actually just saw it. I probably won't be doing a review of that for Speculative Fiction Friday, but let's just say that is hard to do a film with a title like that. It can't live up to its name.
I don't know if the Epic JLab Audio earbud can truly live up to its name, but considering how "Epic" is becoming overused, let's just say that these earbuds are pretty good. Right now, I'm listening to something with them now, and they are safely in my ears thanks to the 4 Cush Fins. There are at least 6 Gel Tip sizes, but the one I have now fit better then the SonicSport from Audio-Technica.
In addition to the "revolutionary fit", it also has some cool 13mm drivers that deliver cool sound as well. I would say that the less said about that, the better. I don't have something in my house that tests how good headphones are, I just listen to them, and if they sound good, I give them my thumbs-up.
If you want it, you can get it on Amazon for about $49.99. I don't see them on the JLab site then.