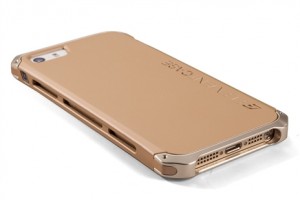 Yes, what you are seeing here is a case for the iPhone 5/5S. This Solace Au (like the element abbreviation for gold) is from Element Case, makers of the Atom and Eclipse cases for the Galaxy S4.
Now, how in the world can I talk about a golden iPhone 5/5S case? Let's just say that if you are Goldfinger or some other over-the-top rich James Bond villain or Richie Rich, this would be your case. It has "top and bottom crowns", and I can't tell if this is the same gold crowns that my dentist use. All right, that was a somewhat interesting thing to say about it.
I mean, it is a gold iPhone case! Headline made! Okay, it has a durable polycarbonate chassis with a soft touch finish. Even the aforementioned crowns are precision CNC machined from T6061 aircraft grade aluminum. It also has a terrific grip and a Quick Draw Pouch. Not bad, not bad at all.
Now, I don't think this is like solid gold iPhone 5/5S case, or it would be worth more, right? As it is, it costs about $99.95. You can get it on the Element Case site for about $99.95.