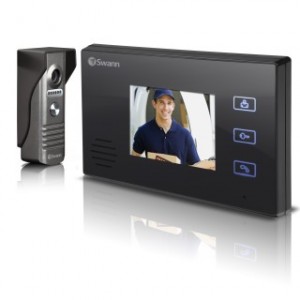 In all honesty, I never really felt a need to live in a neighborhood where I had to see who was outside the door at all times. It is comforting when there is a knock at the door, but that peephole doesn't exactly make me comforted enough to say "come on in".
I would assume that this is why Swann invented the Doorphone Video Intercom. If you aren't familiar with Swann, it is a company that makes all kinds of video cameras and other gadgets made for the basic consumer, and not for those who are too advanced with tech. For example, this Doorphone Video Intercom didn't require a huge setup, but more about that later.
The Doorphone Video Intercom has an LCD screen that is about 3.5 inches. The user wires this monitor to a camera that goes outside of the house. On this camera is a doorbell button with the usual "ding-dong" chime, and then the camera starts feeding the footage from outside. The monitor gives a very clear picture, and it gives a very clear picture in the night, albeit monochromatic.
Keep in mind that the Doorphone Video Intercom's two main units are not wireless. I honestly have no problem with that, because it comes with a 50 foot cable that can be easily set up according with the instructions. I had them wired together within a few minutes, and also included are some other mounting brackets, screws, and so forth. Like I said, Swann makes it easy for anyone to set it up.
In addition to the camera, there is also an intercom so you can speak to the person at the door. Yes, this does come in handy. Also, if you have one of those electronic locks on your door, there is a lock button on the monitor so you can just hit a button to lock an intruder out. Hopefully, you won't have to use that one.
If you are looking to get in on this deal, head over to the Swann site and pay $149 for it.