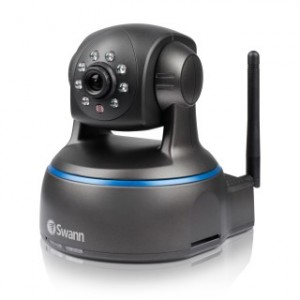 It seems I have had a second chance to try a Swann product this week, the first being the Doorphone Video Intercom. The SwannEye HD Pan & Tilt All-in-One IP Network Camera, or SWADS-445CAM, is very reminiscent of the Dropcam Pro that I reviewed not too many days ago.
In other words, it is an Internet security camera that you put in place so you can occasionally watch something like a house, pet, or baby. However, the Dropcam Pro could only stay in one spot, and didn't have the ability for the user to remotely pan up to 350 degrees horizontally and tilt up to 100 degrees vertically. I had a lot of fun watching my dog, and I wish I had the good sense to take a picture or video when she was curiously looking at the camera. Keep in mind that the manual controls are a little imprecise, and it can be difficult to track a subject, like my aforementioned dog.
The set up isn't too hard as you plug the SwannEye into a router and plug it into the wall. About the only thing I found tricky was setting up the account online, which wasn't really at all that tricky.
In addition to the ability for your laptop or desktop to record sight, you can also record sound with a built-in microphone. By the way, if you want to get the footage on the smartphone or tablet, you can do that too.
Other bonuses including a Day and Night video camera for a little bit of monochrome action. These recordings can be save to an SD card.
If you like this, and what it can do for you, you can get it on the Swann site for $179.99.