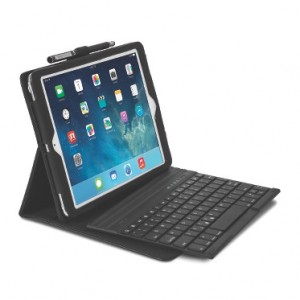 I will have to admit, I had several problems when I opened up the KeyFolio Pro for the iPad Air. Now keep in mind, this is going to be a positive review, and I just want to get all the negative things out of the way first because there isn't many compared to the positives.
I will start with my problems getting it to pair. The problem was the on switch was deeply embedded on the top of the keyboard, and I had to access it with a flathead screwdriver. Darn my short fingernails! Then the indicator light didn't come on, so I didn't know if it was working. After I charged it up, I still didn't see a light on, anywhere.
I could not figure out how to even pair the thing! Luckily, the Kensington site showed that it occurs with a touch of a button, but the button looked like this: <...>. Is this now universal symbol for Bluetooth pairing now?
However, this thing does work, and I am even typing this report out with the KeyFolio Pro. It is quite comfortable for such a small keyboard. By the way, I am not even using an iPad Air, but a smartphone (Android, too).
The KeyFolio Pro for the iPad Air is one quality case. I don't think the material is leather, as they usually go out of their way on the package to say how genuine leather it is. It is made of a soft black material which will undoubtedly protect the precious Apple cargo. There is even a place on top to hold the Virtuoso Stylus. Oh yeah, I'll talk about another Kensington product while reviewing a Kensington product!
I will also applaud the KeyFolio's liberal use of magnets. A magnet holds the keyboard to the Folio, giving it the power to stay but also the power to leave. The angles that the Folio can hold the iPad Air are also magnetically locked, and they work very well.
In short, I recommend the KeyFolio Pro if you are looking for a Folio case for iPad 5. It is available on the Kensington site for $99.99, and it comes with up to 65 GB of Google Drive for one year. Not bad, not bad at all.