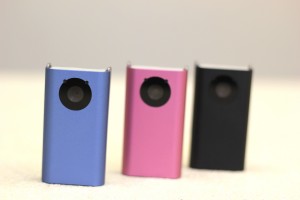 What you are seeing here is the Blynk, a very special camera from Lyfeshot. If you haven't heard of it, then perhaps you will hear of it as people are beginning to realize that all life is precious and it must be preserved with the power of technology.
The Blynk is a camera that you can clip on your your clothes and it takes time-lapse pictures. It shoots only certain frames, so it can take a half-hour walk and put it into a few minutes. It is enough so you can see what is happening, and it somehow puts it in an artistic point-of-view.
I have a video after the jump done by an 11-year-old girl, and I have to admit it that the POV is crazy and full of light. It really is very interesting, and feels like early nineties videos. Check it out after the jump.
The camera has 4GB of memory, and it is very small at 2.5 inches. Just to let you know, this camera only works at a certain angle. I had it on my shirt as I took my dog for a walk, and I got some sideways images of my journey.
You can get the Blynk on the Lyfeshot site for about $129.95.