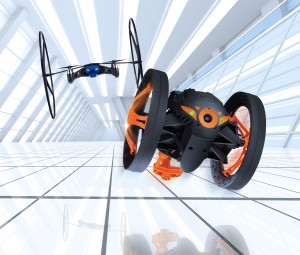 I can honestly tell you that last night at CES Unveiled was a little bit of a shoulder-to-shoulder, standing room only event. One of the things that got a lot of press was anything that was above the floor.
Parrot, for example, had their new MiniDrone on hand. The MiniDrone is the blue one that you can see in the image here, and it has detachable side wheels for land roving, but it can very easily take to the air. It can even roll on the ceiling for a little bit of protection, and it has a piloting mode with an unprecedented automatic stabilization system made for beginners. Users can take command via Bluetooth and fly, fly away.
In addition to the Mini-Drone, Parrot also had the Jumping Sumo on hand, this is another smartphone controlled robotic toy which uses the smartphone or tablet. This has an embedded camera, and is capable of 90 degree turns at a very high speed.
On a related note, DJI International had their drones on the floor. (Actually, they were off of the floor.) They were hovering and doing all kinds of tricks.
I don't have price points for the Parrot stuff, but the DJI International Phantom 2 is made for serious hobbyists and will cost you a little under $1,000.
It is a drone, drone world. Perhaps Amazon can achieve its vision.