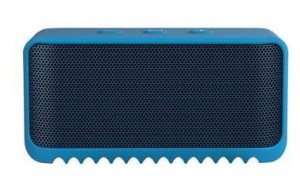 Some of you might remember the Jabra Solemate, and I was fortunate to try out the Solemate Mini. Personally, I can barely tell the difference between the two.
Yeah, I am pretty certain that the regular Solemate plays louder, because bigger is better, right? I don't really have the specs of this, but the Mini has some strong speakers that can give 8 hours of playing time on a single charge.
The Solemate Mini has the cool effect of the bottom of a shoe, and you can connect it to a device via Bluetooth or NFC. There is also a 3mm audio jack cable underneath the rubber sole for a wired connection. I will have to say the wireless connection was pretty loud.
While I am on the subject of connection, I found that the Solemate Mini guided me all the way through it. It did it with some kickin' bass as well. Needless to say, I'll go ahead and recommend the Solemate Mini, especially if you can't afford the Solemate Max, which is coming soon for quite a bit more money. The Solemate Mini is about $99, in four colors: Black, Red, Blue, and Yellow.