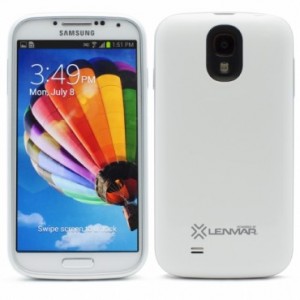 Yeah, it is a case that can give your Galaxy S 4 an extended battery life. Sure, you could just get one of those mobile batteries if you want to do that, but why not just give your GS 4 some protection as well?
This precisely what the Halo Galaxy S 4 Power Case is designed to do. It might not be a unique product, but what I like is how it literally doubles your battery life. The way it does this is it actually includes an extra battery. The battery it comes with plugs right into the back of the GS 4, and then you put the regular battery from your GS 4 in.
How simple is that? The rest of the case protects the battery as well as the back of the phone, provided that you pry off the regular back of the GS 4. Just so you know, it has all the cutouts necessary for the use of your headphones, camera, and flash. Also, the charging and syncing works just fine as well.
Another thing worth knowing is that the GS 4's NFC capability is not impaired. This is a problem sometimes, and it looks like Lenmar is all over it.
If this is for you, then head over to the Lenmar website and pay $59.99 for it.