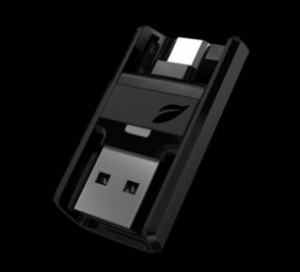 Some of you might remember when we reviewed the Leef Magnet 3.0 Drive. That was a USB Drive that is as magnetic as a…magnet. We all need another USB drive, and I have recently been offered a chance to review the Leef Bridge 3.0, another thing that you might need.
That is, if you have an Android smartphone or tablet. The Leef Bridge is a simple device with a USB 3.0 connector on one side and a microUSB 2.0 connector on the other. You can't really tell this in the picture, but there is a button in the middle which allows you to slide either the microUSB or USB side for use.
With this device, you can transfer a file from the computer to Android device with simplicity. Yeah, you can plug in a USB to microUSB cable and do the same thing, but it would be easier to transfer one file from Android device to Android device with the Leef Bridge 3.0.
The Leef Bridge 3.0 is a flash drive that you can put files on from your computer, and then plug it directly into the Android device. My Galaxy S III recognized it easily on its File Manager program, and it was easy to view, copy, or paste files from one device to the other.
All in all, I will applaud this device for its simplicity and it is available exclusively at Radio Shack for $19.99 for the 16GB model, $34.99 for the 32GB model and $69.99 for the 64GB model.