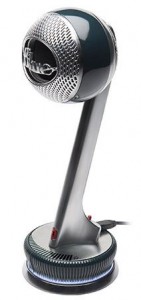 I am no stranger to products from Blue Microphones, and I first noticed the Nessie at CES. Not this year's CES, but last year's. I finally got a chance to review the "first adaptive USB mic".
In case you are not aware what an adaptive mic is, think of it like you would your camera. You know how it will often auto-focus and take out the redeye? Yeah, cameras have come a long way, and Blue Microphones have taken it to the next level with the Nessie.
I had a chance to try it out, and I can honestly say that if you wanted a mic for your computer that is better than the internal microphone, the Nessie is for you. This is what it did for my wife's computer, and she can communicate very effectively now.
It really is set up for some good recording, and I can't wait to make some really cool video podcasts. Yeah, I might be starting a career in that, and if that happens, I will be sure to be thanking Blue Microphones when that happens.
Other specs include three different modes including Voice mode used for voiceover work, which is probably what I'll be using it for. Then there is Music Mode, made for the singers and players of instruments. Finally there is the Raw Mode for when you want to handle the audio processing yourself.
In short, the Nessie succeeds on so many levels. I forgot to mention the aesthetic value as well. I actually think it is called Nessie because it looks like the head of the Loch Ness Monster. It does have a lovely bit of nostalgia going for it, and I feel like I should be singing some oldies in it.
By the way, I wasn't certain where to mention this, but it has an adjustable crane neck and a volume control on the bottom. If this is something that you want, you can get it on the Blue Microphones site, and expect to pay around $99 for it on sites like Amazon and Best Buy.