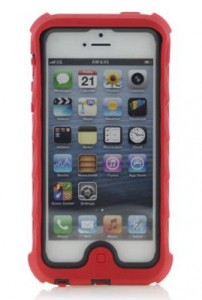 I am declaring today "candy day" as I will be officially reviewing three products from Hard Candy/Gumdrop. I'm not certain if these companies are under the same umbrella, but I will have to say that they are remarkably similar. More on that later.
I'll start with the Drop Tech Color Case. The Case has a texture that resembles the bottom of a tennis shoe, and it is a silicone protective case that reinforces protection on the four corners as well. It fits around the iPhone 5 rather snug, and the integrated screen cover fits in along with it.
Now it may not keep your iPhone 5 waterproof, and yes, it probably won't allow you to use the fingerprint scanner if you have an iPhone 5S. It does have a protective polycarbonate camera flash ring and access to the mic, speaker, and charging port.
You should be able to get it on the Gumdrop site for about $44.95, in a wide choice of colors.