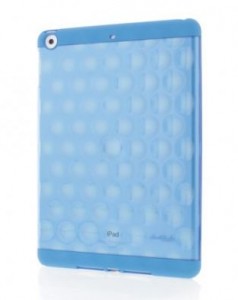 Well, this is still Hard Candy/Gumdrop day, and just looking at the Neon Bubble Case for the iPad Air makes me hungry. Hungry for Hard Candy, as it looks like it is made out of the same stuff that lollipops are made of.
Okay, enough with the witty intro, let's hear more about it. The Neon Bubble Case is a polycarbonate shell which can snap on the iPad Air in two pieces, and it has an ultra slim design along with access to the mic, speaker, and charging port.
What I really like is the bubble design, as it is able to split up images. Seriously, just hold it up to something, and you will see a lot of images of what you are looking at. Unless, of course, you are looking at something up close.
If you want to get a hold of this, you should be able to get it on the Hard Candy site for about $39.95.