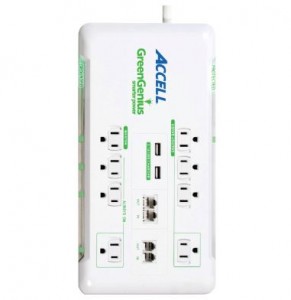 This will be one of two Accell products that I will be reviewing today, and as you can see, it is a surge protector. You will notice that it does not resemble a typical surge protector, and I am not just referring to the fact that it is more than double the width.
I think we all know that surge protectors protect people against…surges, but even devices connected to surge protectors still drain some energy. In fact, studies show that 15 percent of all energy in a household is done on standby. Imagine if you had a surge protector that would automatically shut off a device if it was not in use.
Here's how it works. You plug a device like a computer or television into the Master outlet, and then plug in all their accessories (like a printer or DVD player) into the Energy Saver outlets. When the power is off on the Master, it will soon be cut to all of the devices plugged into the Energy Saver outlets. There is also the option of always on plugs for when you need something…always on.
In addition to this feature, the GreenGenius also has X3 MOV (Metal Oxide Varistor) which can detect surge conditions and reacts by directing excess energy away from the equipment. I didn't get a chance to try out that, but I did try out the USB charging ports and Ethernet and Phone line protection.
All in all, the Green Genius is quite something. You can purchase it on the Accell site for about $44.99.