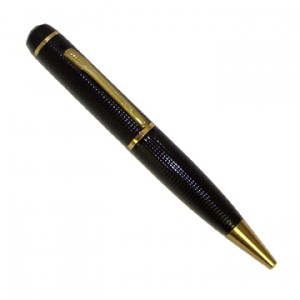 I don't know if you ever wanted an HD Digital Spy Pen. If you haven't, then you clearly need to watch more James Bond films. I can honestly say that I hope I am never in a position where I need to use the HD Digital Spy Pen, but since I had a chance to try it out for myself, I want to report my findings.
The HD Digital Spy Pen from Cobra Digital unscrews to reveal an 8GB internal memory that you can just plug into your computer. According to the official website that you can link on below, there is a micro SD slot. I am assuming that you plug it in behind the USB plug-in. I didn't have a working SD card to try this out with.
The thing already comes with 8GB worth of storage, which is enough for a long video. There is a small camera lens located just above the clip, and there is a microphone there as well. There is an indicator light on the other side of the pen, and if you are trying to record something while it is in your breast pocket, no one should be able to tell.
Keep in mind, the spy pen has to be in the right mode (audio, still shot or video), and there is a switch inside that you have to flip to insure that it is in the right mode. This switch is very small and I had to flick it with a paper clip.
The video and the still shots worked well, but the lighting wasn't ideal and the camera didn't adjust well for that. I won't bother showing examples of this. I will also admit that I had a difficult time viewing the video on my computer, but I think it was because Windows Media Player had problems with AVI format. I was able to play the video over my phone, but again, the lighting wasn't so good.
Still, there is a lot of good footage that this spy pen could pick up. Maybe you want to transfer the info from your pen to your computer and then to your phone. It is a way of getting good evidence of whatever it is that you want.
I would have to say that you could start your own personal video channel with the DSP080 HD Digital Spy Pen, and I am not certain whether you should. You can get it on the Cobra Digital site for about $179.95.