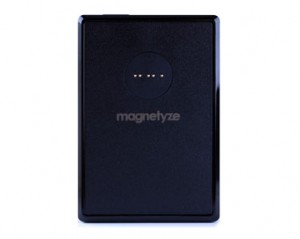 If you aren't familiar with BuQu, they make some pretty cool products with their Magnetyze collection. They have created a method of charging products with a magnetic connection.
Now, magnetic charging isn't anything new. Products like the Powermat use a pad to charge mobile devices, provided their is a special case on them. I had a recent chance to try out the protective case for the Samsung Galaxy S III, and I must say that I had a difficult time putting it on. You have to hold it at a 15 degree angle, and slowly ease it in as the micro USB fits in. From there, you can use the USB cord to lock it into place and you have charging.
Now, let's get to the item that you see in the photo: the Magnetyze Mobile Battery. This is a device that you have probably seen before, and I have reviewed several like it. This one can be charged with a magnetic charging cord, and then you can use the magic magnetic box for charging. This box has four LEDs to show how much power is in it.
Once the Mobile Battery is charged, you have a few options. You can connect the Battery with a Protective case, and that charges it. You can also connect a USB charging cord to the mobile battery and charge whatever you want with the 1800mAh battery.
You can purchase the Mobile Battery here for $59.99, and the Protective case for the Galaxy S III here for $49.99. Check out the rest of BuQu's stuff here.