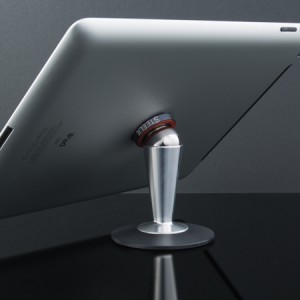 I had a chance to try out the Steelie Pedestal Kit over the weekend, and I have to say that I have seen products like it before. It is essentially an iPad mount that uses a lot of magnets to keep it in place.
For those who are not familiar with products like these, this has a magnet that you stick to the back of a mobile device. The magnet sticks thanks to some 3M adhesive VHB adhesive foam tape. This magnet is ring shaped and made to stick to a metal ball. This metal ball is on a stand, and the stand has some silicone grips for a stable platform. Once your iPad is stable, you can adjust the angle for viewing your iPad in a stable location.
If you want to get the Steelie Pedestal Kit, head over to the Nite Ize site and lay down about $49.99 for it. You also might want to check out the Steelie Car Mount Kit and Steelie HobKnob Kit, each of them $34.99.