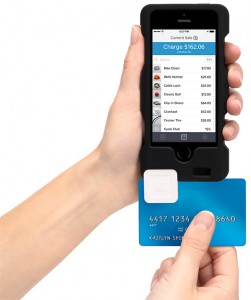 I have reviewed a lot of Griffin products before, and I was pleased to see that they had some interesting products for the iPhone 5. Their most recent is the Merchant Case and Square Reader, and it is a silicone case with a Square Reader.
If you don't know what a Square Reader is, it is a mobile payment plan that allows mobile users to accept payment from credit cards from anywhere. I believe it is called the Square because the accessory is square in its shape, and it fits very conveniently in the headphone jack. I could probably write a whole different article about the Square reader, but why bother?
The Merchant Case is probably the very first smartphone case designed to store the Square safely in place. It stores on a custom-made hole/pouch on the back of the case, and fits in when you need to run a point of sale transaction.
Sounds good to you? Head on over to the Griffin site and be prepared to pay only $19.99 for it. That's pretty cheap for a case, plus you get a good Square reader out of it.