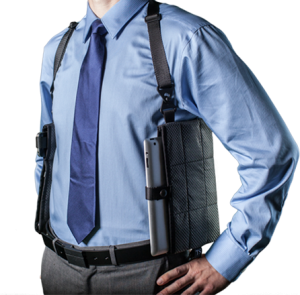 If you never heard of Techslinger, I can understand that. I first saw them at CES 2014, and it is essentially a holster for your mobile devices. I recently got a chance to try it out.
Yeah, you can see how it works. It goes underneath your jacket and over your shoulders, and it is made to hold an iPad or similar-sized tablet. The other side can hold a phone, and it can holds a Samsung Galaxy S III, just barely. Yeah, it probably won't hold any of those new phablets. Also on the phone side of this is a zipper pocket, made for holding all kinds of accessories. Hey, you got to keep that charging cable somewhere.
So I have a question. Do you need a concealed weapons permit to carry this. I kid, of course. Still, I wouldn't try going through TSA with this.
You should be able to get the TechSling Standard Diamond Ripstop for about $64.95 in various colors on the TechSlinger Website.