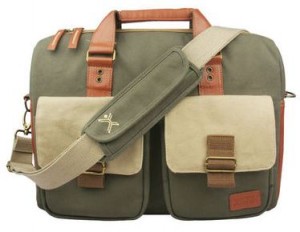 As most of you know, I do a lot of product reviews. Just to let you know, there is a process I go through to receive a review unit, but sometimes, like this particular Canvas 15-inch Laptop and Tablet Briefcase from Perfect Choice, they just were sent to my house.
This particular briefcase can fit a 15-inch laptop and 10-inch tablet. It has pockets on the inside for both of them with soft corduroy lining, and the outside has a durable canvas fabric that is covered with waxing for water resistance. I guess you can take it out in the rain, but I wouldn't put it underwater.
Other features include a padded shoulder strap as well as two external quick-access slip pockets. These pockets seem to have some magnetic thing going on so they snap shut quickly. If you want it, you can get it on the Sky Mall catalog for about $99.99 in Cappuccino or Navy.