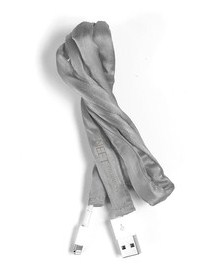 Sure, everyone needs a charging cable for their iPhone, and I think it is very interesting that you can make a good business out of it. I had a chance to try out the Neet Sleeve + Authentic Apple Lightning Cable, and it is the best charging cable since that cool, glow-in-the-dark Color Cable that I reviewed the other day.
I first encountered Neet products at CES, when they showed me a charging cable made from an eco-friendly material and color-coded, so you know which one is yours. The Neet Sleeve is pretty interesting as it feels solid, because it bends like a pipe cleaner. That, or one of those twisty things you use to tie a garbage bag closed. This enables the cable to have no tangles.
If you want to get in on this NEET Sleeve + Authentic Apple Lightning Cable, you can find it on the NEET Products site for about $35.00 in many colors. You can also pre-order a NEET Universal Sleeve for de-tangling, for about $27.00.