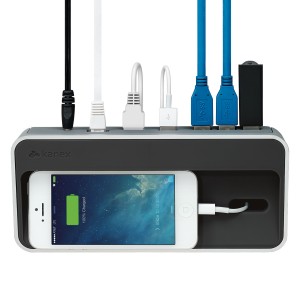 When it comes to making devices simple, Kanex is very good at it. Recently, I just reviewed the Multi-Sync keyboard that allows a quick transition between iPad, iPhone, and Mac. Now I have had a chance to review the simpleDock, which is a 3-Port USB 3.0 Hub, Gigabit Ethernet, and Charging Valet.
I might not have some of the commas right in that last sentence, but this thing really does a lot. It is a small rectangle that doesn't take up a lot of desk space, but you can connect your MacBook with an Ethernet connection quite easily. You can also plug anything you want to the USB 3.0 ports like a printer, or pretty much anything USB, which is practically everything these days.
That alone would be enough to sell the thing, but it has a special "notch" in this designed to plug in the iPhone. From there, you can charge your favorite Apple phone, which will hopefully fit this year's model (with case).
All in all, it is something that fits in well with Mac owners thanks to its zinc alloy design. You can get it on the Kanex site now for $119.95.