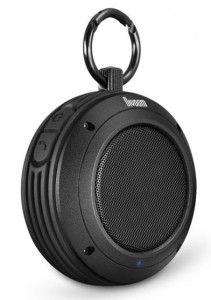 I have reviewed Divoom products before, like the Solo Bluetooth speaker and the Bean. The Voombox Travel is a pretty interesting piece to add to Divoom's collection, and I had a chance to see how awesome it was for myself.
I had an easy time connecting this Bluetooth 4.0 product to my smartphone, and the sound had a passive radiator with 2 inch driver and 2 inch passive radiator "for impressive bass for its size". I am quoting that from the website, but I can tell you what it means. When I put this speaker, the bass will make it move a few millimeters with every beat.
Of course, this is what you want from a Bluetooth speaker. What makes this is a good speaker is that it is splash resistant, which makes it ideal for, of course, travel. This is also good for a Bluetooth speaker, and it has speaker capability as well.
Yes sir, I can recommend this speaker, which has a battery life of 6 hours. You can get it on sites for about $49.99.