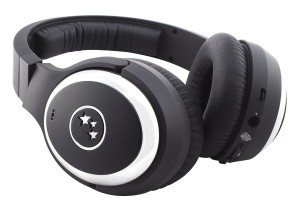 Some of you who follow my blog know that I have been reviewing Able Planet products for a long time, and I can't honestly remember where I discovered this company, but I really wish they were as famous as SkullCandy or Monster. I've recently had the awesome opportunity to try out one of their latest with the NC2000BCM, or Linx Fusion Active Noise Canceling headphones with ViviTouch 4D sound Technology and Volume/Multi-Function Control with Microphone.
Yeah, that is a long title, so I will attempt to detail the features. I will have to say that these headphones are some of the clearest sounding ones that I have seen, and this is because they use their Linx Fusion system to transmit sound "through the skin, bone, and ears. I'm not certain what precisely Linx Fusion is, but it is attached to Able Planet products.
If there is bone conduction technology involved, I am not surprised. I believe this kicks in if you flip the switch, and I'm glad these headphones are micro USB/USB powered instead of batteries.
In addition to the ViviTouch 4D Sound technology that gives terrific sound, there is also a microphone that I cannot see on it but is pretty good. Seriously, this isn't one of those headphones that extends out if you yank on it, it is just there. Yes, you can use this microphone for a phone conversation, and yes, you can answer and hang-up calls thanks to special buttons on the wire. There is also the possibility to play, pause, and advance music as well.
I will have to say that these particular headphones are pretty heavy, and I am not certain how they will feel on the head after several hours worth of use. The padded earcups help cushion the phones, adding to the good sound.
if this is something that you want, you can get it for about $349.99 here, with a terrific case.