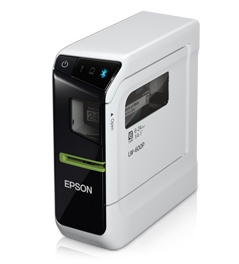 I got a chance to try out the Epson LabelWorks LW-600P, and I personally thing that every home is probably going to need one. I don't really have a formal name for this device, so I'll just describe it the way Epson describes it: "the first app-enabled label printer on the market".
Basically, the LW-600P is a portable printer powered by 6 AA batteries (or included AC adapter) and it is made for label making. Considering that most people need labels for the home and office, it is a device that is useful anywhere. Most people have to print many labels form a regular 8 1/2 x 11 inch printer, but this is made for quick printing, kind of like DYMO's products.
What is interesting is how the LW-600P can work with a PC, Mac, or a smartphone. Yes, you can sync with Bluetooth and use Epson's iLabel (or some other third party apps) to create all kinds of labels like QR codes, gift labels, and just about anything. You have to purchase the LabelWorks labels to do that, and you can open up the LW-600P and insert them in like a VCR tape.
The apps also allow speech-to-text, and you can get a perfectly good preview of what your label would look like before you print it. You can also save that label for later use, and even cut and paste stuff from other sources if you like.
If you want this, head on over to the Epson site and pay $99.99. You will also have to pay extra for the LabelWorks labels.