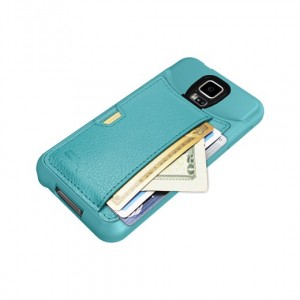 Well, this would be the first accessory that I have reviewed for the Samsung Galaxy S 5, and CM4 produces a lot of good ones like the case for the Galaxy S4. The Galaxy S5 Wallet Case, or Q Card Case for the Galaxy S5, is pretty decent.
The Q Card Case has a feature that I have seen on several cases, indicating that it soon might be a standard. It can hold 3 credit cards, as well as cash. Yes, it seems like the wallet market is on the decline with the accessory case taking its place.
There is another feature that makes it different, and that is an audio amplifier made to "channel music/audio" to you. It is meant to bring the sound to the front of the phone rather than to the built-in rear speaker.
The whole point of this particular case is to make the smartphone softer around the edges, and I will have to say that I like that part. You can get it on the CM4 website for about $39.99 in Pacific Green, Black Onyx, and Midnight Blue.