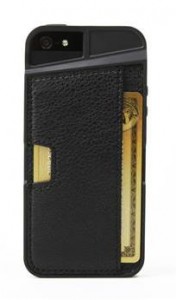 I'll go ahead and readily admit that I have already reviewed CM4 products before, as I just tried out their Q Card Case for the Galaxy S5.
So what can I say about the Q Card Case for the iPhone 5/5S? Well, it is a wallet/case made for the iPhone. Yeah, not much difference there. For those who don't know, it can hold 3 cards, which includes ID and credit cards.
There is also a "Lay-flat Screen Guard" in order to provide screen protection. I can't remember if the one of the Galaxy S5 had that, but I like how this one also has a feature known as "Natural Throw", which can "maintain an organic connection with your iPhone".
If you are interested in it, you can purchase the Q Card Case for iPhone 5/5S for a price of $39.99 on the CM4 site.