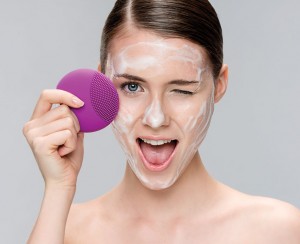 I must admit that this product really isn't for me, because I don't really care about my skin. Don't get me wrong, I probably do things to protect my own skin, but I'm not the type that use things on my skin to give it a healthy-looking glow. A company known as Foreo has the LUNA mini. This is an interesting skin cleanser that uses the power of technology (reread sentence with a reverberating voice).
The LUNA mini uses T-Sonic tech for cleansing. Basically, it can vibrate like a massager for channeling transdermal sonic pulsations across the skin's surface. It can clean pores of impurities to reduce the causes of blemishes, and smooth and refine the skin's texture.
It has about 1,300 nonabrasive touch-points coated with smooth silicone, and it vibrates at three different rates. It is also waterproof so it can be used in the shower or tub.
If this is something that you are looking for, you can get the LUNA mini on the Foreo site for about $139 in five colors: Petal Pink, Turquoise Blue, Magenta, Purple, and Cool Gray.
According to the website, the LUNA mini can work in just 3 days, provided it is used one minute per day and night. It is rechargeable via USB cord, and is good for up to 300 treatments.