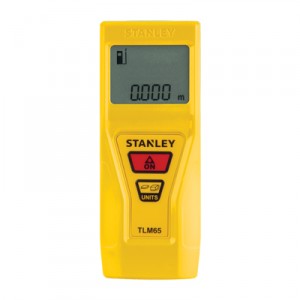 With summer here, I'm sure there are a lot of people doing projects. If there are projects, you can be certain that there is measuring tapes. But who needs measuring tape if the job can be done with a laser?
This is what Stanley's True Laser Measure (TLM65) is made to do, and it does it well. It has a range of 20 meters, and I don't know what that converts into non-metric units. I had a chance to try it out, and I was looking for measurements in feet or inches, and it does metric too.
Here's how it works. When you turn it on, the device emits a laser beam, and it reminds me of a laser pointer. You point that red dot on something, and it tells you how far it is to the end of the beam.
This beam comes in handy for when you want to measure two-dimensional and three-dimensional areas as well. All that, and it fits in the palm of your hand or in the pocket.
It is definitely worth the price if you want to do measurements on your own. If you want to spare an extra man to hold the measuring tape, it might be worth the $59.99 MSRP.