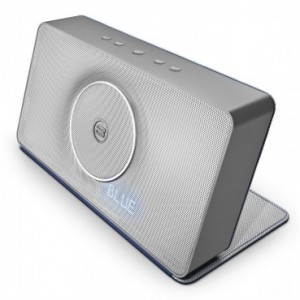 I'm sure most of my readers know that I review many Bluetooth speakers, and so it would take a lot for me to admit that one is the best. Generally, I judge by whether or not the sound is quality. For the Soundbook X3 by Bayan Audio, It is quite good.
I am not certain what makes it so good, but let me just say that you can feel the smooth defined bass with your hand as the music plays. Yes, that can be said about several Bluetooth speakers, and I admire its ability to play with aptX quality audio as well as the quad 1.5-inch drivers plus passive bass. I'm just going to guess that this is a unique feature.
I also admire the shape of the Soundbook X3. It has this permanent angle that keeps it from being a full book, but has an incredible aesthetic. The design is also unique as it has this fold-out nylon stand to cover the speaker when not in use.
Best of all, it is all wireless. Not only is there Bluetooth 4.0 capability, but the speaker can be charged for up to 10 hours worth of play. Oh, did I mention the FM radio that it comes with? It has it.
If you want this, head on over to the Bayan audio site and lay down about £249.99 for it.