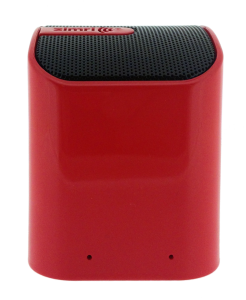 If you are not familiar with Zimri's product line, then you should really get to know them as soon as you can. I'm going to review two Bluetooth products from them, the Z-T210 and Z-11.
I'll go ahead and start with the Z-11. It is a small speaker that I will admit that I have seen before, but I enjoy the small size of products like these. This one produces some pretty clear sound, and this is because of the port-holes on each side for "added bass response".
It may not be as loud as the Soundbook X3, but it is made for Bluetooth 3.0 and NFC. I do like how it comes in red, and looks very good in a minimalist decor. You should be able to get it on the Zimri site here for $59.99.
As for the Z-T210, it is also Bluetooth, but 4.0. It is a pair of headphones that has a lot of bonuses. The first is the touch-sensitive controls. Controlling the volume is as easy as swiping your finger up and down, and changing the tracks is simple as sliding backward or forward.
Just to let you know, the sliding is done with some beeping. At least that is what it did for me, as I tried them out. I liked how the cushions fit my ears in a way that didn't hurt that them over time. The one thing that I didn't try out was how it has 3500 hours of standby, with a battery level indicator.
If the Z-T210 is something that you want, you can get it for $89.99 on the Zimri site here. I recommend them both if you are in the market for a speaker or pair of headphones.