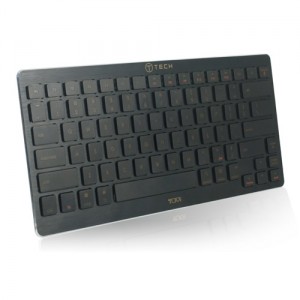 I'll be completing my T-Tech by Tumi week-long review tomorrow, but today I want to focus on the Universal Bluetooth Travel Keyboard. It is a flat keyboard made of ABS plastic with some aluminum on top in order to sync with a tablet or smartphone.
I have to admit that it is good to have a keyboard if you have work on your smartphone or tablet like you would a laptop, and the low-profile keys make a smooth keyboarding transition. I believe that this is related to scissor key technology to make keystrokes more "natural".
I was able to pair it with a droid phone easily, but it is made for Windows 8 as it has a home key made for it. It can also do iOS as well. The range is about 30 feet, and it comes with a traveling case that is really good for when you take it on the road.
You can find out more information about this product here, but I don't seem to have a price for it as yet.