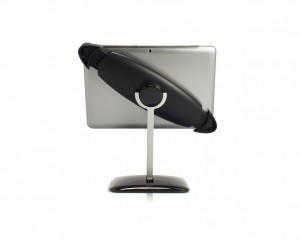 For those who have iPads, it is always good to have a place to put it when you are watching a video or if you just want to put it someplace and use it as a touchscreen display. This is why you might need a product like the Klick Desk Stand from The Joy Factory.
The Klick is built with a flat stand with a branch coming out, so you can mount it and adjust the angle. There are some clamps on the corners that are made to hold the tablet in place, and it locks it in as tight as a rubberband. I didn't really know how else to describe it, but you will be able to adjust it.
If you are looking to try out something like this, head over to the The Joy Factory website and lay down $59.95 for it.