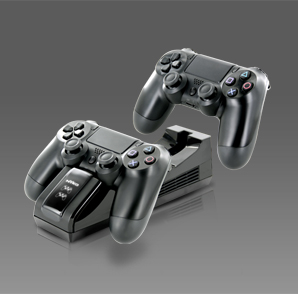 I have reviewed Nyko products before, and this is the first one that I reviewed for the PS4. The Charge Base for the PS4 is related to the Charge Base PS3, and works in a similar fashion.
The Charge Base for the PS4 has these two custom USB charge adaptors that can attach to the micro-USB part of the controller. The adaptors can lock into the base which is plugged into the wall. This means that you can just charge up your controllers without even interacting with the PS4 itself, and the charging is quicker as well. The good news is there are LED lights that illuminate to show the charging status.
If you are needing something for your PS4 to charge up the controllers quickly, then you're probably playing way too much PS4. No, just kidding. You can get it on the Nyko site for about $29.99.