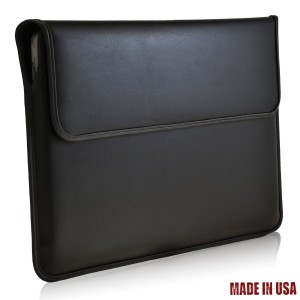 Ever since I saw their products at CES, I have been itching to try them out. I finally had a chance to do so, and I had a chance to try several of their products.
I will start with the Real Genuine Black Leather 13.3 inch Laptop Sleeve Bag, made for the Macbook Air 13, Pro 13, and Ultrabooks. This is made with genuine black leather, which is a real bonus for any product that is an accessory and just classes up the whole mobile device thing.
The inside is a Suede lining to keep the laptop or ultrabook iDevice safe. It also has a magnetic top for a good seal, and even has a side opening for charging. You can get this on Amazon for about $39.99.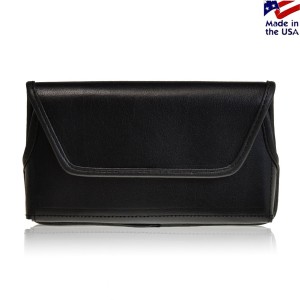 A similar product to the one for the Macbook is the Genuine Leather Holster Case Pouch with Metal Belt Clip. It is made for the Samsung Galaxy Note 3 III, and it will even fit it with an Otterbox/Ballistic Case.
It has the same Magnetic Flap Closure, Genuine Leather, Soft Felt Lined, but this one has a belt clip. It is good to have something like this for the Note 3, which is a real fab phablet. As someone who tried out the Note 3, I recommend this as a proper accessory.
You should be able to get this product on Amazon for a price of $25.99.
I didn't bother putting a picture of the Genuine Leather Holster Case Pouch for the iPhone 5/5S/5C, as it is very similar to the one for the Galaxy Note 3. You have the leather, the flap, the clip, and it is even the same price for $25.99 on Amazon.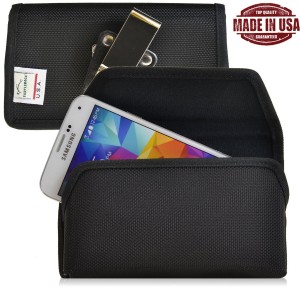 Somewhat different from the last two products is the Nylon Heavy Duty Case that Samsung Galaxy S5. This particular pouch is made for the belt, but this one has a removable and rotating metal heavy-duty belt clip.
Gone is the leather, but it has the tough nylon. It has kept the metallic flap, and is good with a headphone jack with its accessibility. You can get it for $25.99 on Amazon.
All in all, the Turtleback cases are quite something, and I highly recommend them. Check it out on their website and see what you can find for yourself.