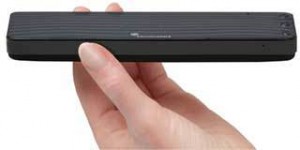 In an effort to review every Bluetooth speaker ever made, I had a chance to try out one of the best of them with the FoxL DASH7 from Soundmatters. I have been wanting to review this speaker for a long, long time.
If you aren't familiar with the DASH7, it is a very flat Bluetooth speaker that has some of the best sound I have heard for something this 2-D. Okay, it isn't completely flat, but I can testify if you hold it in your hand while the music is playing, then the music plays you.
The sound comes from the company's Twoofers. This is what Soundmatters calls their "tweeters that also woof", which are very flat ultra power neodymium driver that provide a uniquely wide frequency range and are augmented by the company's patented BassBattery. Much of that I took from the company's website, but it translates to "sound that you can feel".
Sure, I have said that about products that I reviewed before. I highly just recommend you try it. You should also try out the built-in microphone so you can take some phone calls.
Another bonus is this included angled stand, which can tilt the sound toward you. Otherwise, you could just put it right in front of your Bluetooth source for omni-directional sound.
If you want this, you can get it on the Soundmatters site for about $199 in Midnight Black, Vibrant Red, and Arctic White.