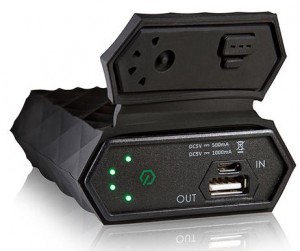 Yes, I have reported on Outdoor Tech before, such as the Privates Wireless Headphones, and I have also reviewed plenty of mobile batteries like those ones for Ventev or iWalk. I want to welcome you to the Kodiak.
So, what makes the Kodiak different than other mobile batteries? Well, for one thing, it is IP54 Water Resistant which means it might not be able to be immersed, but it could survive the shower. It is also Shockproof, which means it can be dropped a few feet and still charge your device with 6000 mAh.
The Kodiak has what you expect from a mobile battery. The micro USB for input and a USB port for output. It has the four lights to show charging and power in the battery. What I like about it is the flip open cover.
Yes, I highly recommend the Kodiak from Outdoor Tech. For with the Kodiak, you will: "never worry about running out of power, liquid, or poorly swung baseball bats again". I quoted that from the Outdoor Tech website, and I don't really know what that means. You should be able to get it on the same website for about $49.95.