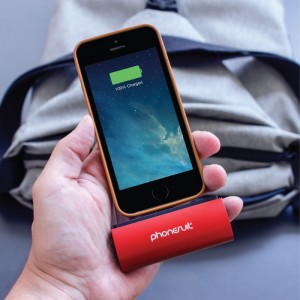 I've reviewed Phonesuit products before, like the Elite battery case for the iPhone 5/5S. That product was a way to double the battery life of your phone, and there is another product known as the Flex XT Pocket Charger that can give your iPhone 150 percent power in a smaller size.
The Flex XT Pocket Charger is a lot like the Link 5200i from iWalk. The Pocket Charger is a lot smaller, in fact, Phonesuit says it is the smallest of its type. It is made to connect to the bottom of an iPhone or Lightning Connector iPod, and it works no matter what case you have on it.
Of course, I like this product. It does say that it charges without wires, but you will need the micro USB charger to charge it up. It also has the standard 4 lights indicator, but I've reported on that feature on so many mobile batteries, that I have lost count.
If you want to get this now, head on over to the Phonesuit site and purchase it for $69.95 in Black, Red, and Blue Metallic.