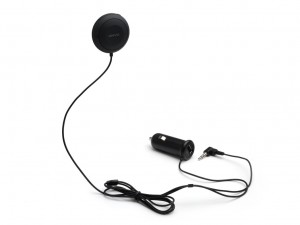 I will be honest that I have seen products like the Kinivo BTC455 before, and I think it is a sign that even the newest car stereos are not set up for Bluetooth. Yes, anyone who wants to play the tunes on their phone in their car just has to use their phone.
That is, unless you have the Kinivo BTC455 Bluetooth Hands-Free Car Kit. Basically, you can pair your Bluetooth device to this disc, powered by the cigarette lighter. Then you connect the 3.5 mmm cable to the aux audio, and you have your tunes from your phone. In addition to being able to do Bluetooth 4.0, it also has advanced multi-point A2DP pairing. It also supports aptX for CD quality audio, and there is a built-in microphone.
If you want to get in on this, head over to the Kinivo site for about $44.99.